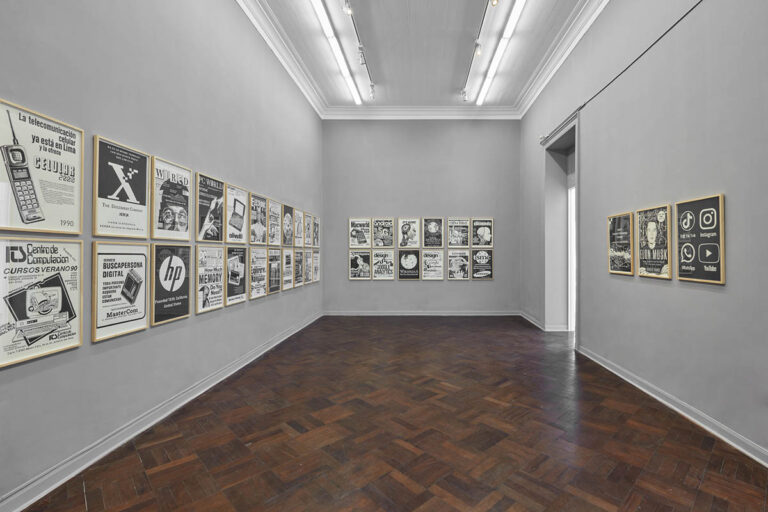 Fernando Bryce
The Future is Here
25 Nov – 7 Dec 
Esta colección de imágenes es la señal de un novísimo reto asumido por Fernando Bryce: la historicización de nuestras sensibilidades y la historicización de nuestro consumo, en un solo barrido de imágenes de cinco décadas que se dejan ver con una simultaneidad tan excitante como pasmosa, y que claman sin cesar "¡Abajo la Historia, sólo más presente y que sea aquí y ahora!".
La cultura de la computación se expandió de modo súbito, aunque se haya perfilado a través de varias décadas. Su cronología es poco aprehensible sin imágenes publicitarias que la relaten, y éstas sólo lo hacen agolpándose para sumar medio siglo de domesticidad a la medida del bolsillo de cada uno, para luego encarnar la democratización más intensa e inquietante desde la cámara KODAK con película recargable que George Eastman lanzó al mundo en 1888. (Dicho sea de paso, pensando à la Hobsbawm, ¿será corto o largo el siglo XXI?). En nuestro imaginario, lo que actualmente llamamos Era Digital son 50 años que albergan tipografías, palabras clave, diseños y dispositivos electrónicos -o más precisamente, gadgets-, que prometían contener en su materialidad posible, la forma palpable del futuro, dentro de un ilusionismo más acezante y seductor: el de un Autobahn, una autopista de la información instantánea y sin límites. Como lo hizo Steve Jobs con la Apple Macintosh con mouse (y mouse pad) bajada de los cielos.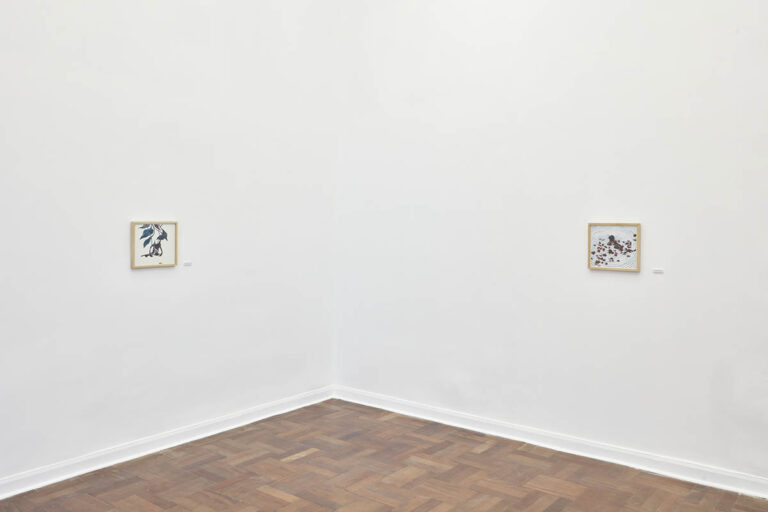 Rita Ponce de LeónCaminando, tus zapatos usados comienzan a brillar
25 Nov – 7 Dec
Las dos series de dibujos que se presentan en esta muestra fueron parte del proyecto de Rita Ponce de León para la Trienal de Aichi titulada Still Alive (Japón, 2022). Esta edición de la trienal reunió una serie de propuestas artísticas en las que el acto de vivir estaba fuertemente ligado a la creación.
Como parte de su propuesta, Rita invitó a colaborar al poeta mexicano Yaxkin Melchy quien a su vez invitó al poeta japonés Shinnosuke Niiro. Juntos trabajaron a partir de una pregunta que Yaxkin puso sobre la mesa en una entrevista que Rita tuvo la oportunidad de escuchar. La pregunta dice: ¿Qué es una vida que tiene sentido?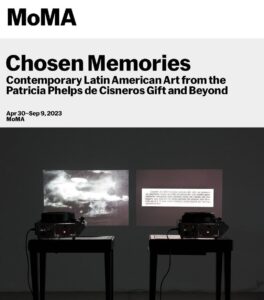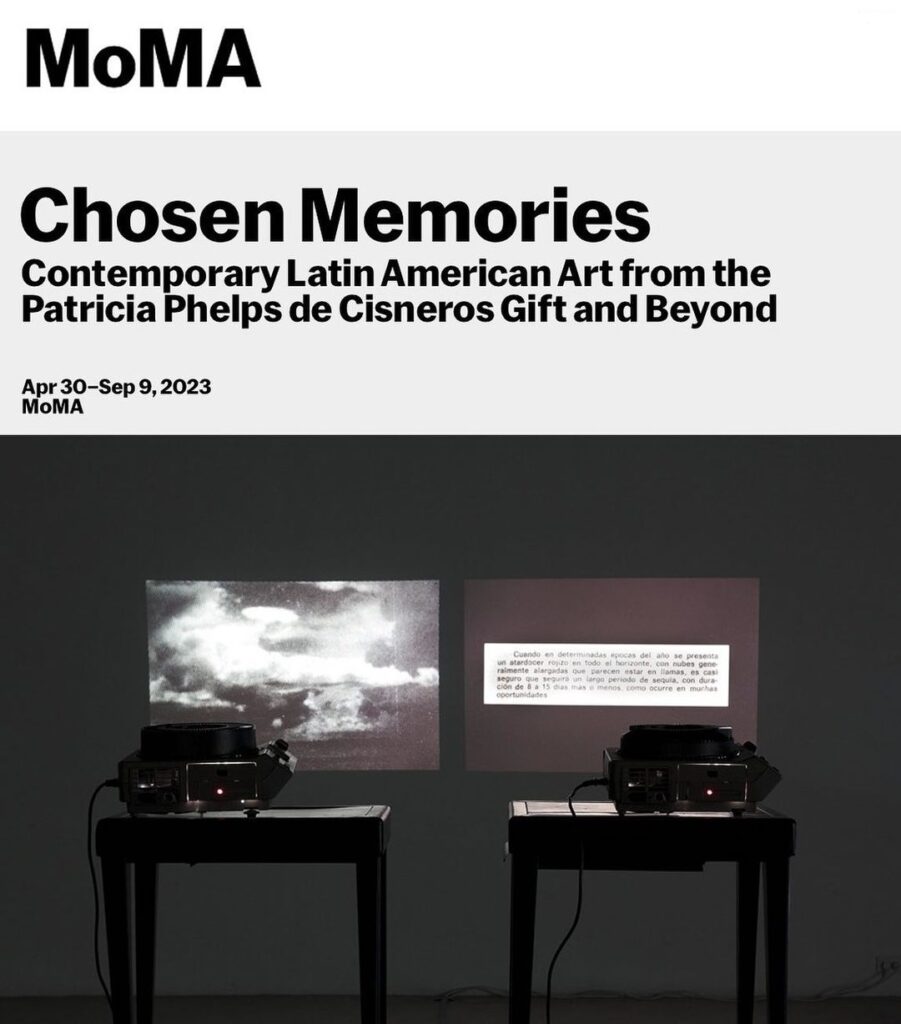 Gilda Mantilla and Armando Andrade Tudela at MoMA's group show "Chosen Memories"

April 30 – Sept 9, 2023
We are pleased to announce Armando Andrade Tudela's participation in "Chosen Memories", group show at MoMA, based on the Museum's collection.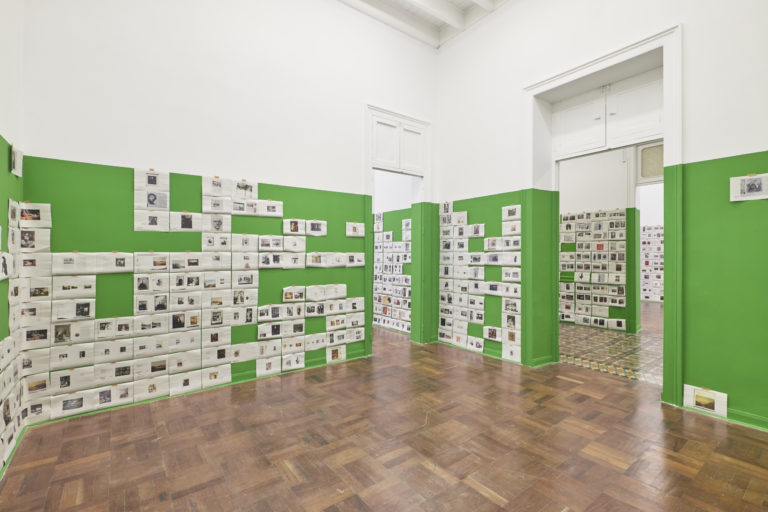 Iosu Aramburu was awarded MoMA's Artist Research Fellowship
We are proud to announce that losu Aramburu was awarded MoMA's Artist Research Fellowship 2021. This is one of the three grants presented each year by the Cisneros Research Institute for the Study of Art from Latin America, established by The Museum of Modern Art in 2016 to support new research by artists, curators and scholars.

losu Aramburu (Lima, 1986) is an artist based in Lima, Peru. Through painting, sculpture and installation, his work seeks to question the failures of the modern project. |n 2019, Aramburu awarded the Artus-Delfina Fellowship (London), in 2018 he won the Premio ICPNA de Arte Contemporáneo and the Plaza Paz Soldán National Contest (both in Lima) and in 2012 he won the lll Premio de Pintura Latinoamericana Arcos Dorados-ArteBA (Buenos Aires). He has participated in residences in Triangle-France (MarseilleJand in the Fonderie Darling (Montreal). His work can be found in the following collections: Museo de Arte de Lima – MALI, Patricia Phelp de Cisneros collection (New York and Caracas), the Sayago 8 Pardon Collection (Los Angeles), the Lodevans Collection (London), Jorge M. Pérez Collection (Miami), Hochschild Collection (Lima), Arcos Dorados Collection (Buenos Aires), among others.